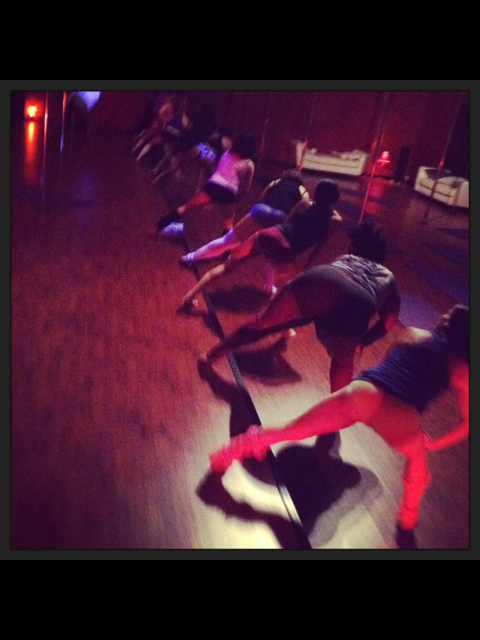 New Students click HERE to sign up for classes (you will need to complete a simple process to create an account).
Already have an account? Click HERE to sign in to classes.
Pole Classes
Virgin Pole
Take a sneak peak into the world of pole dancing! In this 1.5-2 hour (depending on number of students) class your instructor will lead you through a body awakening warm-up with core work and some gentle stretching. Then you will glide, twirl, and strut your way through some basics on the dance pole. Do as much or as little as you are comfortable with, and talk to your instructor--she wants you to feel great! The Virgin Pole Class at Steel Heart Dance is meant to be a one time teaser class, but if you would like you may attend more than once.
All Levels, but tailored towards those brand-new to pole dance

Check schedule for women only or co-ed options

$30
Foundation
Be inspired to explore your own strength and sensuality through movement and music. In the safety of a small group of amazing women, this 120 minute luxurious class includes a delicious warm-up that combines the physicality of Pilates, presence of Yoga, simple pole work, and the emotional expression of dance. Learn a whole new vocabulary of movement that is designed to take your body to a deeper lever of awareness and confidence. This series includes learning to walk and dance in 'dancer's' heels, a variety of basic pole tricks, and simple choreography, as well as a fun striptease. Being part of a series class allows you to grow with group of women while building a fun, safe community. Class sizes are small to allow for individualized attention from your instructor.
All levels, but tailored towards beginners and those that prefer the basics

Ongoing; come and go as you please

Various pricing options: drop-in, four class cards, eight class cards.
Sensual Deep Dive
This is an all-levels class, perfect for students who have already taken Foundation and are ready to move on, beginners ready to take the plunge into pole-dancing, and Intermediate/Advanced students who want to share their experience with new dance sisters. The instructor will lead you through a grounding, sensual warm-up, you'll learn and practice pole tricks, floor moves, and choreography, and you'll get a chance to see what our main squeeze--Improvisational, Sensual Dance--is all about.
Class size is limited to 9 students, and committing to four to eight weeks in a row is highly recommended! The more you dance, the better you feel!
All Levels

Ongoing...and best results come from committing to class!

Various pricing options: drop-in, four class cards, eight class cards.

Bring music you love and layers to remove to this class!
Freedom Pole
Freedom Pole is your chance to spin, play, and bond with the dance studio on your own schedule and at your own pace. There is no instructor present during Freedom Pole. Instead, you stretch, warm-up, and dance with your friends or by yourself, while an awesome playlist pushes you along. You must NOT dance beyond your own level during Freedom Pole! We love you, and want you to be safe...and trust that you will respect your limits and abilities. Have fun!
All levels

$20 (sign up online or pay at the door)
Workshops
We have ongoing Three Week Workshops that explore different themes and techniques. Some past workshops have covered:
Burlesque Choreography

Strip and Lap Dance

Four Elements in Sensual Movement

Bombshell

Dance on the Furniture
Workshops are $120 for three consecutive classes. Check out our scheduler for exact dates.
Click to see our calendar.